Indoor Navigation, Indoor Location & Beacons Technology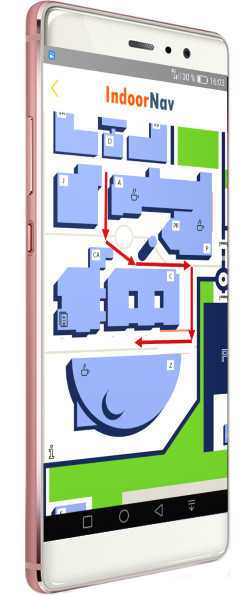 Indoor Navigation
Indoor Location
Geofencing
Augmented Reality
Beacons Technology
INDOOR NAVIGATION
Indoor Positioning
Indoor Navigation & Routing
2D & 3D building maps
Augmented Reality
GEOFENCING
Specific detection criteria
Different events trigger
Push Notifications & Call-back URLs
Location Services & Marketing
ANALYTICS
Real-time data collection,
Heat maps of customer's density,
Frequency and duration of visits,
Optimising queue management.
Industries Use Cases for Indoor Navigation & Location

Help travellers to find their way indoor
Show all important points of interest,
Find cash machines, rest rooms and ticket counters,
Automatic ticketing and pre-sales,
Travel information,
Display location based ads.

Better orientation in complex building structures
Interactive map with indoor navigation,
Search for offices or meeting rooms,
Room booking systems,
Cafeteria menus, Company news,
Location based Concierge services.

Create attractive added value shopping experience
Create a new income channel,
Increase customer's loyalty,
Collect data and offer couponing,
Use location-based marketing,
Increase incomes and generate revenue.

Patients facilitates orientation and Asset management
Indoor navigation for patients and visitors,
Coordination of appointments and waiting times
Monitoring of patients in need of care,
Integration of  transfering patients,
Control of hygiene regulations.

Offer a rich content and interactivity
Interactive map of the building,
Navigation and itineraries,
Audio and video guides,
Better knowledge of your visitors,
Virtual reality to improve guest experience.

Create interaction with visitors
Welcome desk and guidance services,
Geo-localized advertisement,
Interact with visitors by triggering location-specific,
Find points of interest and receive info,
Navigation and statistics.
More about indoor navigation & location
The indoor location

The Indoor geolocation, real indoor GPS, helps users to find their way, allowing them to optimize their visit, locate their friends and colleagues; and to provide behavioral analysis to traders on the course visitors.More about indoor navigation & location.
The geofencing
The geofencing is a principle derived from the geolocation. It consists of defining areas like the entrance to a retail space, a cash register, … It allows the detection of persons as soon as they go into the defined area and to send them rich messages, interactive contents directly on phones.
The working principle
An indoor positioning system (IPS) is a system to locate objects or people inside a building using radio waves, magnetic fields, acoustic signals, or other sensory information collected by mobile devices. There are several commercial systems on the market, but there is no standard for an IPS system.
IPS systems use different technologies, including distance measurement to nearby anchor nodes (nodes with known positions, e.g., WiFi access points), magnetic positioning, dead reckoning. They either actively locate mobile devices and tags or provide ambient location or environmental context for devices to get sensed. technologies.
System designs must take into account that at least three independent measurements are needed to unambiguously find a location . The system might include information from other systems to cope for physical ambiguity and to enable error compensation.
Do you want to try it out ?