Beacons Technology and usage

WHAT IS A BEACON ?
A beacon is a small box that sends Bluetooth signals indicating its presence in the smartphone nearby
HOW DOES IT WORK ?
The beacons are placed at the specific locations (area of about 15 meters),
Each beacon is assigned a unique identifier,
On entering the area of influence of a beacon, the mobile phone detects its presence and triggers a corresponding action: display a custom message or launch an application.
WHAT IS BLUETOOTH LOW ENERGY (BLE) ?
Bluetooth Low Energy is a wireless personal area network technology used for transmitting data over short distances. As the name implies, it's designed for low energy consumption and cost, while maintaining a communication range similar to that of its predecessor, Classic Bluetooth.
HOW IS BLE DIFFERENT FROM REGULAR BLUETOOTH ?
Power Consumption: Bluetooth LE, as the name hints, has low energy requirements. It can last up to 3 years on a single coin cell battery.
BLE is 60-80% cheaper than traditional Bluetooth.
BLE is ideal for simple applications requiring small periodic transfers of data. Classic Bluetooth is preferred for more complex applications requiring consistent communication and more data throughput.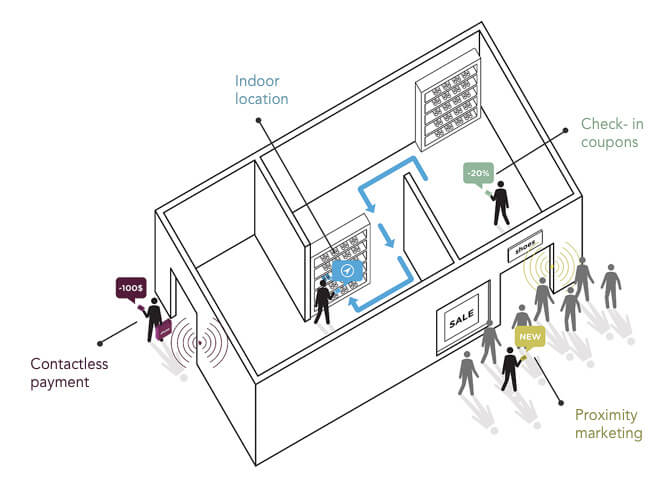 Main steps to create indoor navigation mobile App
Maps digitilization
Design building structure, route and navigation.
Routes & Calibrage
Setup of beacons, configuration and caligration.
Navigation Test
Test of positions and navigation using a dedicated App.
Mobile App creation
Build the mobile App using the navigation SDK.
Do you want to learn more about it ?