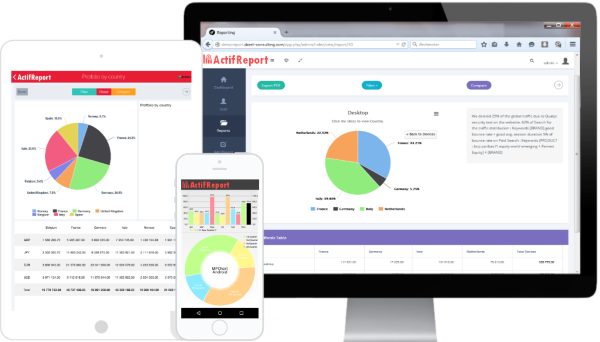 ActifReport is an interactive and business analysis tool available on both web and mobile devices.
For Client and corporate reporting, create reports, charts, dashboards and share it as web, mobile or PDF format.
ActifReport is a full digital Business Intelligence tool for both web and mobile. It combines data reporting, interactive graphical presentation with rule based variation templates to provide future projections and ad-hoc data models. Data sets can be reported, graphed, drilled into and modelled to provide a complete overview of your actual position whilst giving the business leaders the ability to simply project future scenarios.
No matter where your data is coming from, ActifReport transforms it into a nice visual graphics, interactive and easy to read.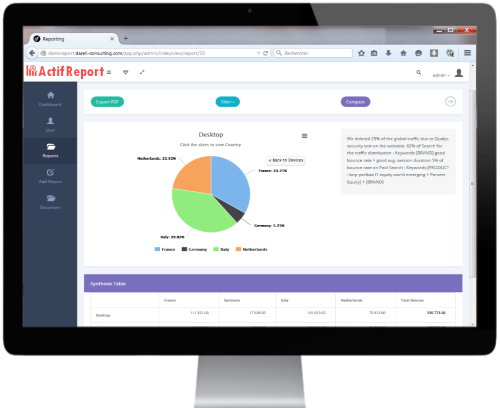 ActifReport mobile
Actif Report is designed  to deliver the best reporting experience for mobile and tablet users.  Access your data anywhere, anytime. These native apps provide live, interactive, mobile access to your important business informations.
ActifReport web portal
With the web portal reporting tool you can access Actif Report from anywhere : no desktop setup is needed. You can build your reports, analyse your data through a broad range of modern data visualizations and an easy-to-use report authoring experience.
Interactive visualization
ActifReport offers the unique ability to create rule based variation templates. These templates lets the end-user design column level influences that change historic data into a valuable future projection. What's more the same data can have multiple templates allowing different future scenarios to be compared enabling informed decision making.